Service Description
If you're hurting, today is the day to find help. Our counselors will take you on a healing journey. With care and expertise, they'll gently guide you to feelings of wholeness and wellness. Heart Centered Counseling have multiple counselors on staff, giving you access to a wealth of knowledge and expertise built on many years of clinical experience. We'll match you with just the right practitioner to help you address your specific situation.
Address
Based in Fort Collins, but has other offices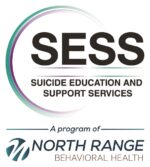 Service Description
As a division of North Range Behavioral Health...
SESS is dedicated to suicide prevention and education as well as supporting those who have lost a loved one to suicide. Our school and organization presentations and trainings provide information about suicide risks, warning signs, and available resources. Our peer-led support groups provide resources, opportunities to talk about loss and grief, and fellowship to those bereaved by suicide. Call 970-313-1089 to learn about these groups and our educational programs.
Address
PLEASE CALL US - DO NOT EMAIL US AS AN EMAIL IS NOT MONITORED Veteran's Crisis Line is 800-273-8255 and press 1 or Text HELP to 838255 Colorado Crisis Line is 866-493-8255 or Text HELP to 38255

Service Category
Addiction Management
,
Benefits - Veteran Service Office
,
Counseling - Combat Veterans
,
Counseling - Veterans
,
Grief and Mourning
,
Home Care
,
Hospice
,
Housing
,
Moral Wounds
,
Neuropathy
,
Pain Management
,
Palliative
,
PTS - Post Traumatic Stress
,
Sleep Issues
,
Suicide Prevention & Education
,
Survivor Guilt
,
Transportation for Veterans
Service Description
United States Department of Veteran Affairs
Local Resources
Cheyenne VA Health Care System
Cheyenne Main Number 307-778-7550
Ft. Collins Main Number 970-224-1550
Loveland Main Number 970-962-4900
Rawlins Main Number 307-324-5578
Sidney Main Number 308-254-6085
Mobile Clinics:
Sterling, Laramie, Wheatland, Torrington Main Number 888-483-9127 ext. 3816
Speed Dial Phone Tree Key
Pharmacy Press 1
Appointments Press 2
Nurse Triage Press 3
Enrollment Eligibility Press 4
Billing Questions Press 5, then Press 1
Care in the Community Press 5, then Press 2
Patient Advocate Press 0, then Press 1
Veteran or family member in crisis Press 7
Operator Press 0, then Press 0
VA Chaplain Services 307-778-7377
VA Voluntary Services (Volunteer or Donate) 307-778-7317
Veteran Transportation Service 307-433-3735; 307-432-3804; 970-310-1200
Vet Centers
Boulder—303-440-7306
Casper—307-261-5355
Cheyenne—307-778-7370
Fort Collins—970-221-5176
Transition Care Management (OEF / OIF / OND)—307-778-7550 ext.7068;
Veterans Crisis Line 1-800-273-8255, Press 1
My HealtheVet—307-778-7550 ext. 7119 or www.myhealth.va.gov