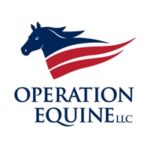 Service Description
Operation Equine and Mount Moriah Stables serve the needs of military service members, veterans, their families, and supporters of the SMVF community.
We provide Equine Assisted Psychotherapy and Learning (EAP/L) through licensed and certified professionals, along with our herd of horses. We support those working through the challenges of service as they create their New Normal in civilian life. We offer a professional, experienced, and effective approach to mental health and the unique issues facing military and veteran families.
Operation Equine is located in a peaceful, confidential setting that is ideal for those working through both physical and emotional trauma.
We provide a free, half-hour, initial consultation. For more information or to set an appointment, please email or call us.